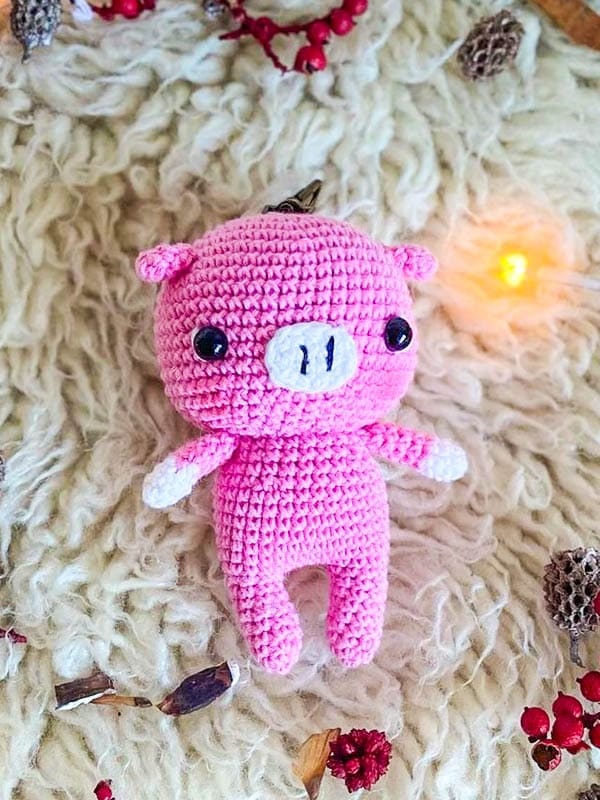 Greetings friends, at the end of a wonderful weekend, we brought you a wonderful pattern. Pink cute pig pattern that you can attach to your keychain or bag. You can make a beautiful handmade gift to your loved ones, or you can use this wonderful pink pig pattern keychain yourself.
The Pink Pig Keychain pattern making is quite simple, you can complete it by just following the instructions. You can contact us or the pattern owner at the points where you are stuck, we would like to thank the pattern owner here for this wonderful pink pig keychain.
PDF Pink Pig Keychain Amigurumi Crochet Free Pattern
Designer
Instagram: purpiecraft
Abbreviations
MR: Magic Ring
sc: Single crochet
inc: Increase
dec: Decrease
tr: Treble/Triple crochet
TRinc: Work 2 tr sts intothe same st.
dc: Double crochet
hdc: Half double crochet
sl-st: Slip stitch
ch: Chain
st/sts: stitch/stitches
FLO: Front loop only.
BLO: Back loop only.
BL: Bobble Stitch: (Yarn over insert your hook into the st and pull up a loop.Yarn over again and pull through 2 loops) repeat the steps in the same st until you have a total of 5 loops on your hook.Yarn over and pull through all 5 loops at once.
Reverse single crochet: Ch 1, working from left to right, insert your hook into the next st,turn hook to the left side, grab yarn and pull through. There are now 2 loops on your hook. Draw up a loop, bring yarn over the hook again and draw this loop through both loops.
Head
1. 6 MR
2. 12sc
3. (1sc,1inc)*6 (18)
4. (2sc,1inc)*6 (24)
5. (3sc,1inc)*6 (30)
6. (4sc,1inc)*6 (36)
7. (5sc,1inc)*6 (42)
8. (6sc,1inc)*6 (48)
9-17. 48sc
18. (6sc,dec)*6 (42)
19. (5sc,dec)*6 (36)
20. (4sc,dec)*6 (30)
21. (3sc,dec)*6 (24)
22. 24sc (crocheting arm this round)
Cut the yarn, leaving long tail for sewing.
Insert the eyes between rounds 14-15.
Arm
1. 7 MR
2-8. 7sc
Ears
1. 4 MR
2. 4sc
3. 4sc
4. 4sc cut the yarn. Leaving a long tail for sewing.
Nose
We'll 5 chain. Leave 1 ch blank
1. Inc, 3sc, inc, 3sc (8)
2. 1inc, 3sc, inc, 3sc (10)
3. 1inc, 2sc, inc, 1sc, inc, 2sc, inc, 1sc (14)
Leg
1. 6 MR
2. (2sc,inc)*2 (8)
3-8. 8sc
9. Right leg: only 2sc
Left leg: only 3sc don't cut the yarn we'll contiuning the body.
11. 5ch left leg we will join legs.
12. 26sc
13. 2sc (inc,5sc)*4 (30)
13-18. 30sc
19. 4sc (8sc,dec)*2,4sc (27)
20. 27sc
21. (7sc,dec)*3 (24)
Cut the yarn.
Download PDF Pattern