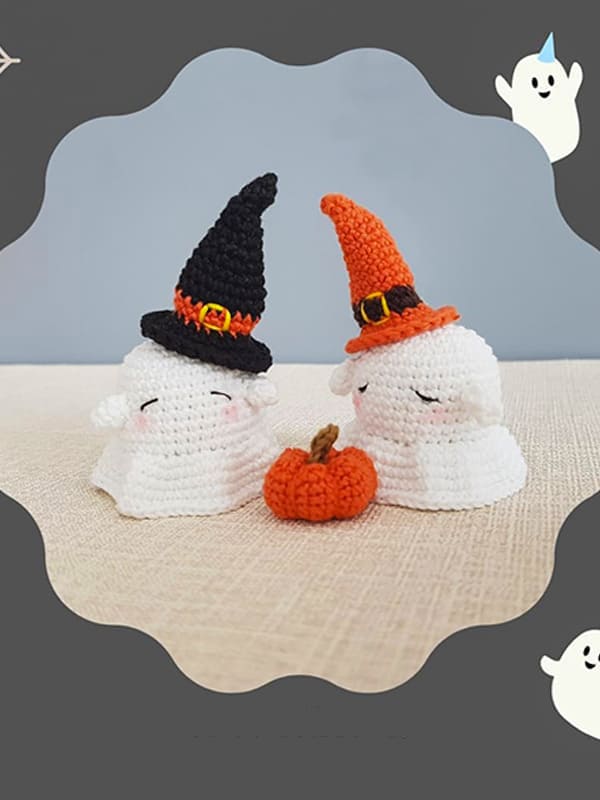 Hello everyone,
Halloween is over, but the most beautiful amigurumi patterns are still being designed. You can always use the amigurumi ghost pattern. The free pattern will be small enough to fit on the palm when complete. You can use the amigurumi ghost pattern as a keychain. You can prepare a keychain pattern for each room in your home by crochet in different colors. You can attach the amigurumi ghost to your children's bag as an accessory.
The amigurumi ghost pattern is very easy to do step by step. We started by making the witch hat. When we complete the body part and arms, our amigurumi toy is ready. You can crochet the witch hat with any colored yarn you want. Do not forget to sew the hat on the head of the amigurumi ghost. This sewing process will keep the hat stable. After completing the amigurumi pattern, you can put makeup on your cheeks. Don't forget to add the amigurumi ghost pattern to your favorites list.
Ghost In Witch Hat PDF Amigurumi Free Pattern
Designer
Instagram: maiacraft
Youtube: maiacraft
Materials
• 1 mm cotton thread. 2.0mm crochet hook. Tapestry
• Needles, scissors, marker, fiber fill.
Abbreviations
MR – magic ring
ch – chain
sc – single crochet
inc– increase
dec– decrease
slst– Slip Stitch
st(s) – stitch(es)
BLO– Back loop only
FLO– Front loop only
(…) x n – repeat the section in parentheses n time
The number in parentheses at the end of each round shows the total number of stitches.
Let's start crochet the amigurumi ghost pattern.
Are you ready?
Let's start by crocheting the witch hat from the amigurumi pattern.
Witch hat
Rnd 1. MR 4 sc (4)
Rnd 2-3. 4sc (4)
Rnd 4. 4 inc (8)
Rnd 5-6. 8 sc (8)
Rnd 7. (sc, inc) x4(12)
Rnd 8-9. 12 sc (12)
Rnd 10. (2 sc, inc) X4 (16)
Rnd 11-12. 16 sc (16)
Change black thread
Rnd 13-14. 16 sc (16)
Change orange thread
Rnd 15. FLO 16 sc (16)
Rnd 16. (sc, inc) X8 (24)
Rnd 17-18. 24 sc (24)
Fasten off.
We have completed the amigurumi ghost hat. Now we crochet the ghost part. White yarn is preferred. 🙂
Mini Ghost
Rnd 1. MR 6 sc (6)
Rnd 2. 6 inc (12)
Rnd 3. (sc, inc) x6 (18)
Rnd 4. (2 sc, inc) x6 (24)
Rnd 5. (3 sc, inc) x6 (30)
Rnd 6. (4 sc, inc) x6 (36)
Rnd 7-14. 36 sc (36) (8 rounds)
Rnd 15. BLO (4 sc, dec) x6 (30)
Rnd 16. (3 sc, dec) x6 (24)
Rnd 17. (2 sc, dec) x6 (18)
Rnd 18. (sc, dec) x6 (12)
Rnd 19. 6 dec (6). Fasten off
FLO R15. (sc, inc) x15 (45)
Rnd 16-19. 45 sc ( 45). Fasten off.
We crochet the arms of the amigurumi ghost 🙂
Arms x 2
Rnd 1. MR 5 sc (5)
Rnd 2-3. 5 sc (5)
Finish off and leave a long tail. Attach arms to body in rounds 10
Congratulations, you have completed the little ghost amigurumi pattern. 🙂
Download PDF Pattern