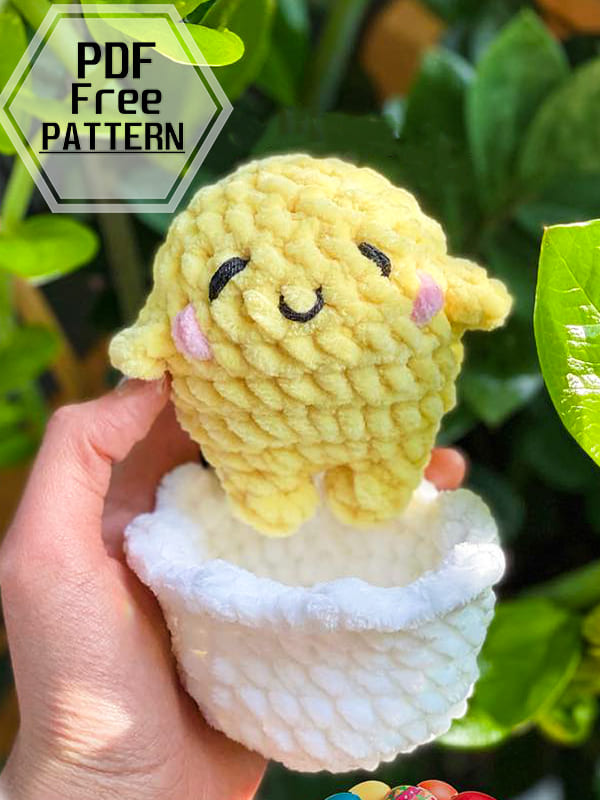 Hello everyone,
Have you prepared your amigurumi pattern for Easter day? Today I shared a wonderful amigurumi pattern for you. Free amigurumi pattern is very easy to make step by step. The amigurumi gudetama pattern is crocheted inspired by a boiled egg. Thank you to the creator of the amigurumi pattern. Let's start by crocheting the legs of the amigurumi pattern first. Let's crochet the body part together with the legs. Let's prepare the handles and eggshell part by crocheting. When all the pieces are ready, we can sew them in place. You can change the color of the free amigurumi pattern as you wish. Don't forget to add it to your favorite list.
PDF Crochet Gudetama Amigurumi PDF Pattern
Designer: rin.meow21
Abbreviations
MR– magic ring
sc– single crochet
inc– increase
dec– decrease
slst– slip stitch
ch– chain
Materials
• Hook size 4mm (or other size depends on the yarn you use)
• Himalaya dolphin yarn (or premier parfait, yarnart, bernat blanket)
• Yarn needle
• Stitch marker
• Fiber fill
• Scissors
Let's start from the first leg- yellow
Rnd 1. MR 5sc (5)
Rnd 2. 5sc (5)
Fasten off and cut the yarn. Now make the second leg the same and continue with ch 2 and join two legs together.
Rnd 3. 5sc + 2sc + 5sc + 2sc (14)
Rnd 4. (sc, inc) x 6, 2sc (20)
Rnd 5. (4sc, inc) x 4 (24)
Rnd 6-8. 24sc (24)
Rnd 9. (4sc, dec) x 4 (20)
Rnd 10. (3sc, dec) x 4 (16)
Don't forget to stuff him with some fiber
Rnd 11. (2sc, dec) x 4 (12)
Rnd 12. 6 dec (6)
Fasten off and weave in the rest
Arms
Yellow
Rnd 1. MR 4sc (4)
Fasten off and leave a long tail for sewing between Rnd 6-7 (count from the legs)
Egg Shell
White
Rnd 1. MR 8sc (8)
Rnd 2. 8 inc (16)
Rnd 3. (sc, inc) x 8 (24)
Rnd 4-8. 24sc (24)
Rnd 9. (sc, hdc, sc into the same stitch) 2slst into the next 2 stitches.
Repeat 8 times. Use black yarn to embroidery the smiling eyes on Rnd 8 (count from the legs) 3 stitches between 2 eyes. Use pink yarn to make his cheeks.

Congratulations, you have completed the amigurumi pattern. 🙂
Download PDF Pattern