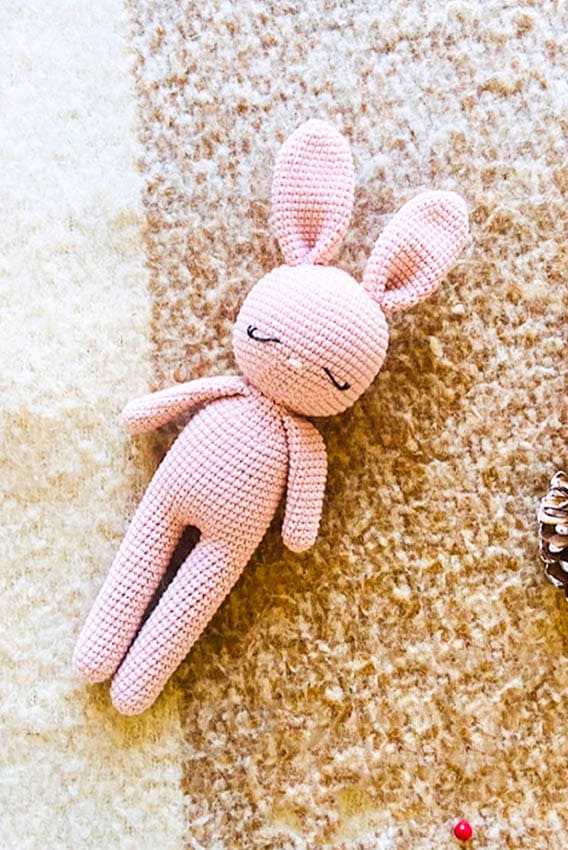 Happy weekend everyone, today we bring you a wonderful amigurumi bunny toy. You can follow the steps to start making this cute pink bunny, which will be a perfect sleep companion for your little ones. Now we leave you alone with the pattern. Pinky bunny amigurumi pattern has been released completely free of charge. Thank you very much to our designer for this wonderful pattern. You can make the pinky bunny amigurumi toy in any color you want. The designer chose the color pink here and it was very beautiful. You can even make a few accessories if you wish.
If we're talking about a crochet doll bunny, it's a pretty simple amigurumi pattern. It is an amigurumi that especially beginners can try without hesitation and easily crochet. As you know, the most sought after and loved amigurumi animals are bunnies. I will continue to share crochet bunny amigurumi patterns for free. I hope you will like it. Now let's crochet the bunny amigurumi step by step.
Pinky Bunny Amigurumi Free Crochet Pattern
Designer
Instagram: purpiecraft
Head
1. 6 MR
2. (inc)*6 (12)
3. (1sc,1inc)*6 (18)
4. (2sc,1inc)*6 (24)
5. (3sc,1inc)*6 (30)
6. (4sc,1inc)*6 (36)
7. (5sc,1inc)*6 (42)
8. (6sc,1inc)*6 (48)
9. (7sc,inc)*6 (54)
10-18. 54sc
19. (7sc,dec)*6 (48)
20. (6sc,dec)*6 (42)
21. (5sc,dec)*6 (36)
22. (4sc,dec)*6 (30)
23. (3sc,dec)*6 (24)
24. (2sc,dec)*6 (18)
Fasten off and a leave a long tail for sewing.
Leg
1. 6 MR
2. (inc)*6 (12)
3. (3sc,inc)*3 (15)
4-24. 15sc
Cut the yarn first leg, don't cut for second leg. We'll continuing the body
with 3 ch.
Body
1-15. 36sc
16. (7sc,dec)*4: 32sc
17. 3sc, dec, (6sc,dec)*3, 3sc: 28sc
18. (5sc,dec)*4: 24sc
19. 2sc, dec, (4sc,dec)*3,2sc: 20sc
20. (8sc,dec)*2: 18sc
Cut the yarn.
Arm
1. 6 MR
2. (inc)*6 (12)
3-15. 12sc.
Fold it and crocheting 6sc.
Ear
1. 6 MR
2. (sc,inc)*3 (9)
3. (2sc,inc)*3 (12)
4. (3sc,inc)*3 (15)
5. (4sc,inc)*3 (18)
6-20. 18sc
Fasten off and leave a long tail for sewing.