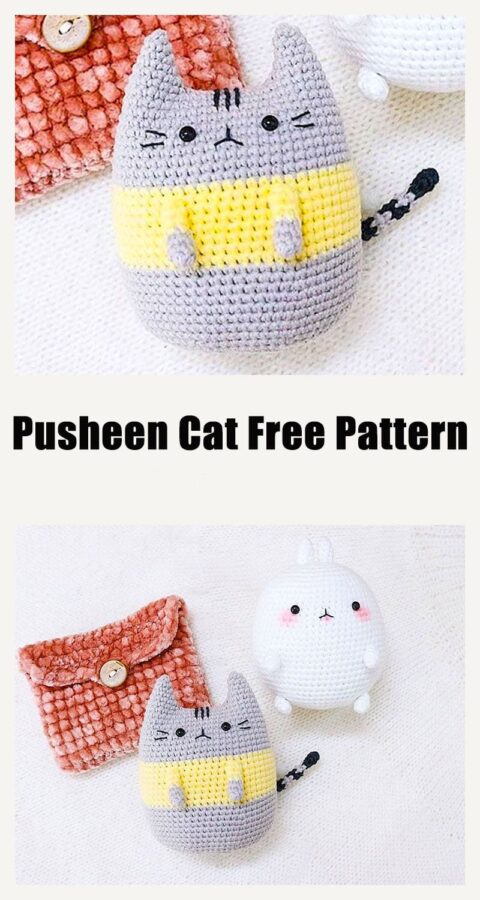 Hi guys,
Welcome to my amigurumi crochet blog! I am happy to share the Pusheen crochet cat toy amigurumi pattern with you for free. Follow the instructions to create this cute crochet pattern step by step. I wish you success in advance.
Today I will share with you the amigurumi pattern of pusheen, a very cute cartoon character. It is a completely free amigurumi pattern. I hope you like it. Its pattern is quite simple and short. It's a pretty good pattern for beginners. You can make different amigurumi cats using different colors. You can give different shapes by changing the pattern. Please stay tuned for this model and others for free. I will share beautiful animal and doll models!
PDF Pusheen Cat Amigurumi Toy Free Crochet Pattern
Designer: beary_bearnita_
MATERIALS
•Yarn: sport or DK light
weight yarn. (I used yarnart jeans)
•Crochet hook: 2mm- 2.5mm
•Black embroidery thread
•Safety eyes size 5mm
•Fiberfill
•Yarn needles
ABBREVIATION
•MR– magic ring
•sc-single crochet
•hdc-half double crochet
•dc-double crochet
•inc-increase (2 single crochet in 1 stitch)
•dec-decrease (invisible decrease)
•FLO-front loop only
•slst-slip stitch
EAR*2
start with grey
Rnd 1. 4sc in MR (4)
Rnd 2. (sc,inc)*2 (6)
Rnd 3. (2sc,inc)*2 (8)
Rnd 4. (3sc,inc)*2 (10)
Rnd 5. (4sc,inc)*2 (12)
Cut the yarn, make the 2nd ear in the same way.
Dont't cut the yarn, make 8 chains. Join in 1st ear and
continue to the body.
We start with the ears of the amigurumi pusheen cat pattern, and then we will move on to the body.
BODY
Rnd 1. 5sc,inc,19sc,inc,14sc (42)
Rnd 2. (6sc,inc)*6 (48)
Rnd 3-4. (2rnds) 48sc (48)
Rnd 5. (7sc,inc)*6 (54)
Rnd 6-9. (4rnds)54sc (54)
Insert the eyes at round 6,7.7sc apart.
Rnd 10. 8sc,inc,26sc,inc,18sc (56)
Rnd 11. 56sc (56)
Change to yellow
Rnd 12. 56sc (56)
Rnd 13. (13sc,inc)*4 (60)
Rnd 14-17. (4rnds)60sc (60)
Rnd 18. (14sc,inc)*4 (64)
Rnd 19. 64sc (64)
Change to grey
Rnd 20-21. (2rnds) 64sc (64)
Rnd 22. (15sc,inc)*4 (68)
Rnd 23-24. (2rnds)68sc (68)
Rnd 25. (16sc,inc)*4 (72)
Rnd 26-27. (2rnds) 72sc (72)
Rnd 28. (7sc,dec)*8 (64)
Rnd 29. (6sc,dec)*8 (56)
Rnd 30. (5sc,dec)*8 (48)
Rnd 31. (4sc,dec)*8 (40)
Rnd 32. (3sc,dec)*8 (32)
Rnd 33. BLO (2sc,dec)*8 (24)
Rnd 34. (sc,dec)*8 (16)
Rnd 35. 8-dec (8)
Cut the yarn and weave in the end.
After crocheting Pusheen amigurumi kitty's body, it's time to crochet her arms.
ARM*2
Start with grey
Rnd 1. 5sc in MR (5)
Rnd 2-3. (2rnds) 5sc (5)
Change to yellow
Rnd 4-6. (2rnds) 5sc (5)
Cut the yarn, leave long tail for sewing
After crocheting the arms of the Pusheen amigurumi kitty, it's time to make her cute tail. We crochet the tail and complete the pattern. Here's all you need to do.
TAIL
Start with black
Rnd 1. 5sc in MR (5)
Rnd 2-3. (2rnds) 5sc (5)
Now change the color every 2 rounds
crochet 5sc until round 23.
Cut the yarn and weave in the end.
Download PDF Pattern