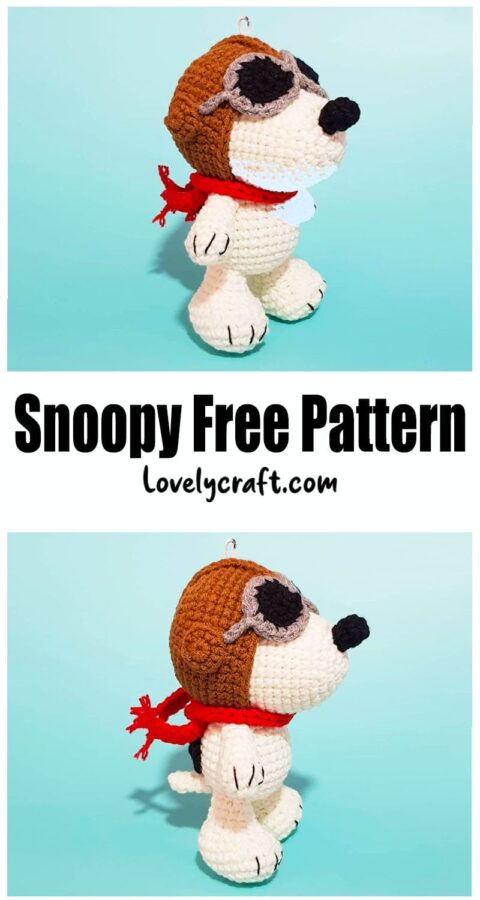 Hello to everyone,
It has been knitted small in size to always have it with you. You can easily carry it in your pocket. You can have it when you are happiest. You can use this cool toy as a keychain.
Snoopy Dog Amigurumi Free Crochet Pattern
Snoopy became a small airplane pilot. It is knitted in keychain size and made in white in color. The cap on his head is brown. It is also knitted from the glasses model used by aircraft pilots and it fits very well. A red scarf is added to make it cool like the pilots. You can give this amazing toy as a gift to those who buy a new house or car.
Designer
Instagram: crochet_like
Abbreviations:
ch=chain
sc =single crochet
inc=İncrease
dec=decrease
W, 3sc =3 sc in same stitch
hdc=haft double crochet
dc=double crochet
sl st=slip stitch

Head:
1. magic ring 6sc (6)
2. 6inc (12)
3. (sc, inc)*6 (18)
4. (2sc, inc)*6 (24)
5. (3sc, inc)*6 (30)
6-10. 30sc (30)
11. 7sc, (sc, inc)*6, 11sc (36)
12. 7sc, (2sc, inc)*6, 11sc (42)
13-17. 42sc (42)
18. (dec, 5sc)*6 (36)
19. 36sc (36)
20. (2sc, dec, 2sc)*6 (30)
21. (3sc, dec)*6 (24)
22. (sc, dec, sc)*6 (18)
23. (sc, dec)*6 (12)
24. dec*6 (6)
Cut the yarn and finish off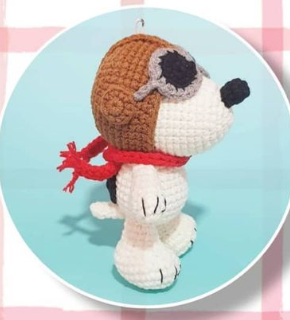 Aviatorhat:
1. magic ring 6sc (6)
2. 6inc (12)
3. (sc, inc)*6 (18)
4. (2sc, inc)*6 (24)
5. (3sc, inc)*6 (30)
6. (4sc, inc)*6 (36)
7. (5sc, inc)*6 (42)
8-13. 42sc
Put the head in and continue round 14
14. 7sc, (2sc, dec)*6,11sc (30)
15. 30sc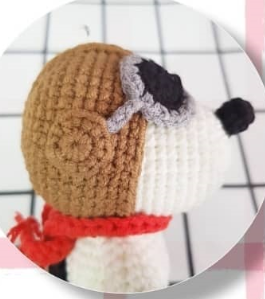 Aviator goggle x 2 pieces
Start with black color
1. magic ring 6sc (6)
2. 6inc (12)
change to gray color
3. (sc, inc)*6, ch4
Body:
1. magic ring 6sc (6)
2. inc*6 (12)
3. (sc, inc)*6 (18)
4. (2sc, inc)*6 (24)
5. (3sc, inc)*6 (30)
6-8. 30sc (30)
9. (dec, 8sc)*3 (27)
10. 27sc
11. (7sc, dec)*3 (24)
12. 24sc
13. (6sc, dec)*3 (21)
Arms:
1. magic ring 6sc (6)
2. inc*6 (12)
3-4. 12sc
5. (2sc, dec)*3 (9)
6-7. 9sc
8. (sc, dec)*3 (6)
9. 6sc (6)
Legs:
1. ch6, 4sc, w, 3sc, inc (12)
2. inc, 3sc, (inc)*3, 3sc, (inc)*2 (18)
3. (sc, inc), 3sc, (sc, inc)*3, 3sc, (sc, inc)*2 (30)
4. (sc, inc, sc), 3sc, (sc, inc, sc)*3, 3sc, (sc, inc, sc)*2 (30)
5. 6sc, (2sc, dec)*3, 12sc (27)
6. 7sc, (sc, dec)*3, 11sc (24)
7. (dec, 2sc)*6 (18)
8. (dec, sc)*6 (12)
9-10. 12sc
11. (2sc, dec)*3 (9)
Tail:
1. magic ring 5sc (5)
2-3. 5sc (5)
4. 4sc,inc (6)
5. 6sc
Spot on back
1. magic ring 6sc (6)
2. 6inc (12)
3. hdc, dc, hdc, sl st
Ears (x2 pieces)
1. magic ring 6sc (6)
2. 6inc (12)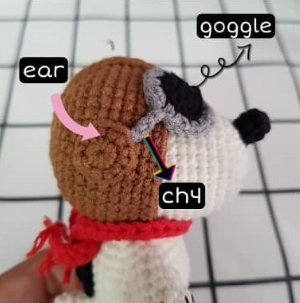 Nose
1. magic ring 6sc (6)
2-3. 6sc (6)